Up until now, I've been trying to keep this blog strictly review based, going forward I will, however, be adding posts covering my personal vacations. I feel the need to give a little backstory on this vacation before I begin my recapping because I find the events leading up to this trip hilarious. Every year during the summer I like to take a trip with my parents. My parents babysit my niece and nephew during the school year. As it turns out we had planned nothing and the summer was quickly ending. Short on time, we figured we'd just do a quick weekend trip to Mackinac Island. The plan fell through because, due to waiting until the last minute to book, all the halfway reasonably priced rooms on the island were sold out.

Sticking with the northern Michigan plan we thought of maybe going to Traverse City, but due to the short notice, there were no reasonable accommodations there either. Canada has always been fun, maybe Montreal? Nope, too far. How about Toronto? Nope, we just went there last year.

Always liking Canada and with no clue where to go, I began searching Google maps for halfway close Canadian destinations. While searching I saw Mississauga in a big bold font, I had never heard of Mississauga before but I thought to myself "If it's in a big and bold font on Google maps it has to be good." After a quick google search, it was settled, we were going to Mississauga. I have to say, despite its haphazard origins, this was easily one of my favorite trips.

To maximize the weekend we embarked on the three and a half-hour drive shortly after noon. When we got to our hotel we asked for, and were provided with, a nifty map of Mississauga and its attractions.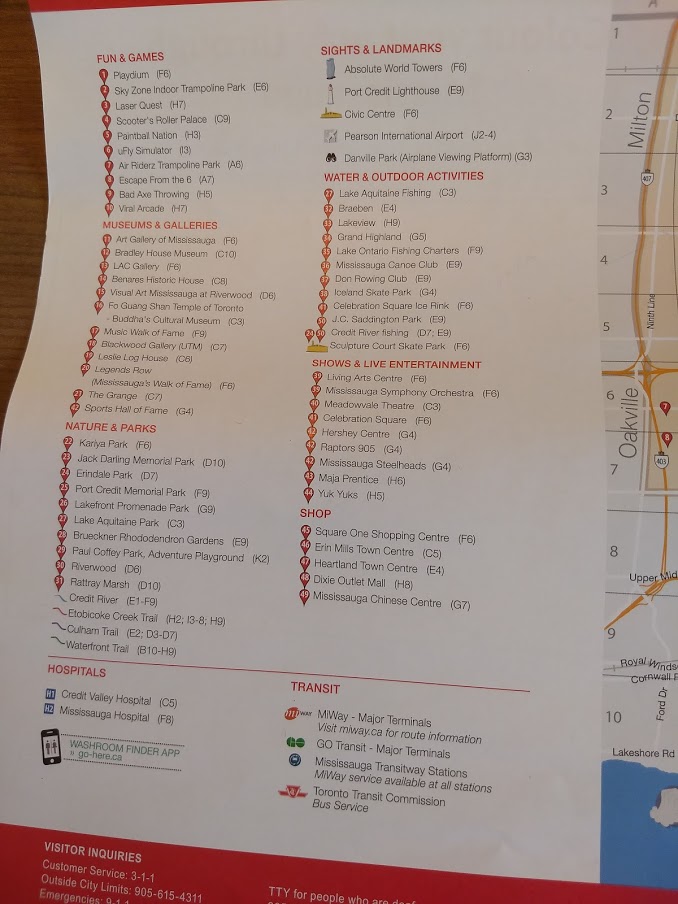 Being late afternoon the first thing my parents and I did was look for somewhere cool to grab dinner. We decided to eat at El Mariachi Tacos and Churros since it was on Streetsville which I also really wanted to check out.

I don't have any pictures of Streetsville, I was not too impressed by it. From reading about it I thought Streetsville was going to be really tight-knit and have a really cool small-town feel, but in reality, it's only about one halfway cool street.

El Mariachi Tacos and Churro was pretty good, I had a chorizo burrito with an order of their chipotle lime fries. One thing to note is that the portions of the chipotle lime fries are huge so I would not recommend ordering a side with every meal if you are in a group. I had also taken this opportunity to try Mezgo S.A de C.'s sangria señorial, not a fan.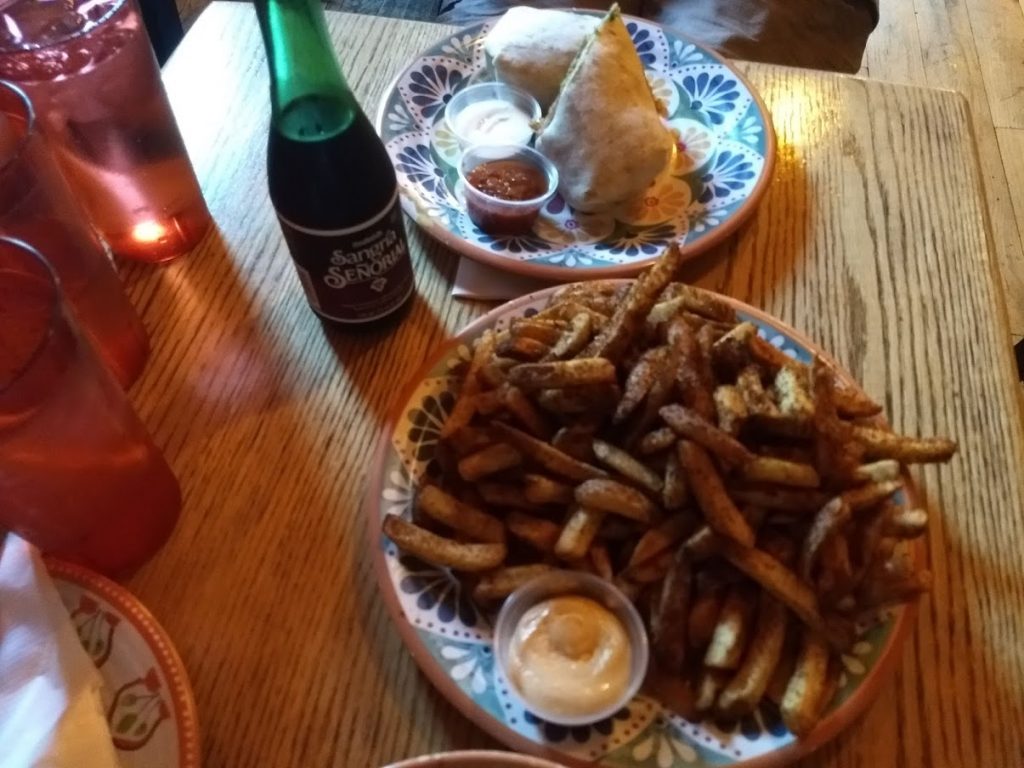 The food at El Mariachi Tacos and Churro was decent, but nothing special. I did think the fries were pretty unique but they were just a touch too salty and over seasoned for my taste, that's not too say I didn't eat more than I really should have.
With the night still young we decided to checkout Playdium. For those that don't know, Playdium is like a more adult-oriented Chuck E Cheese.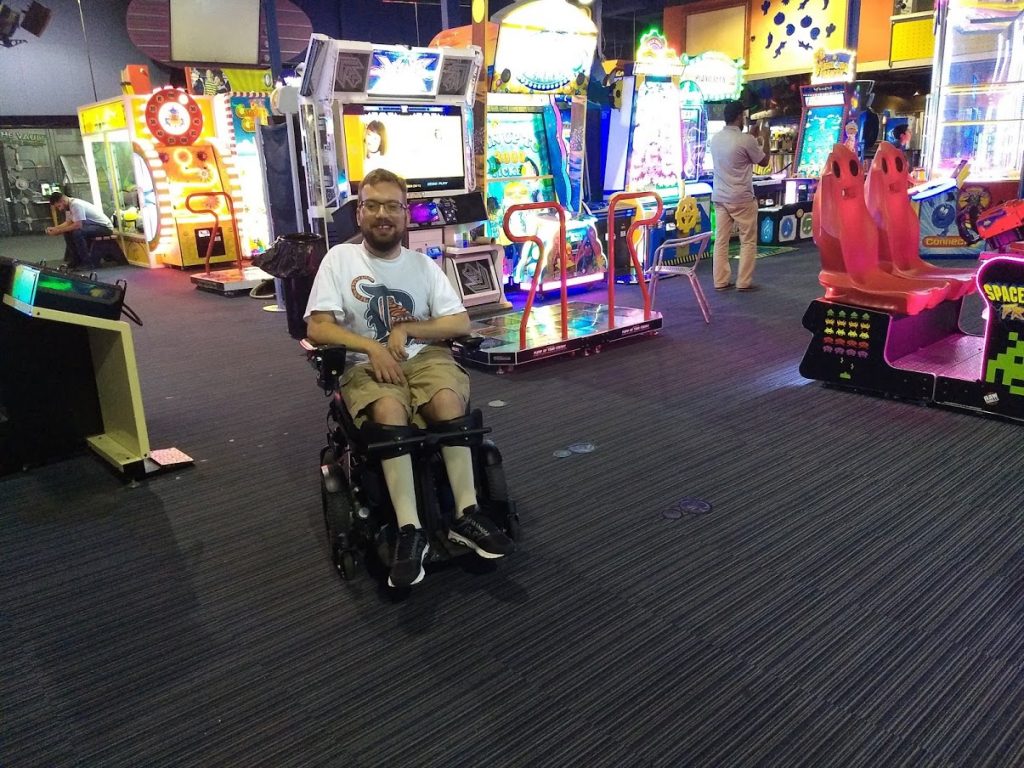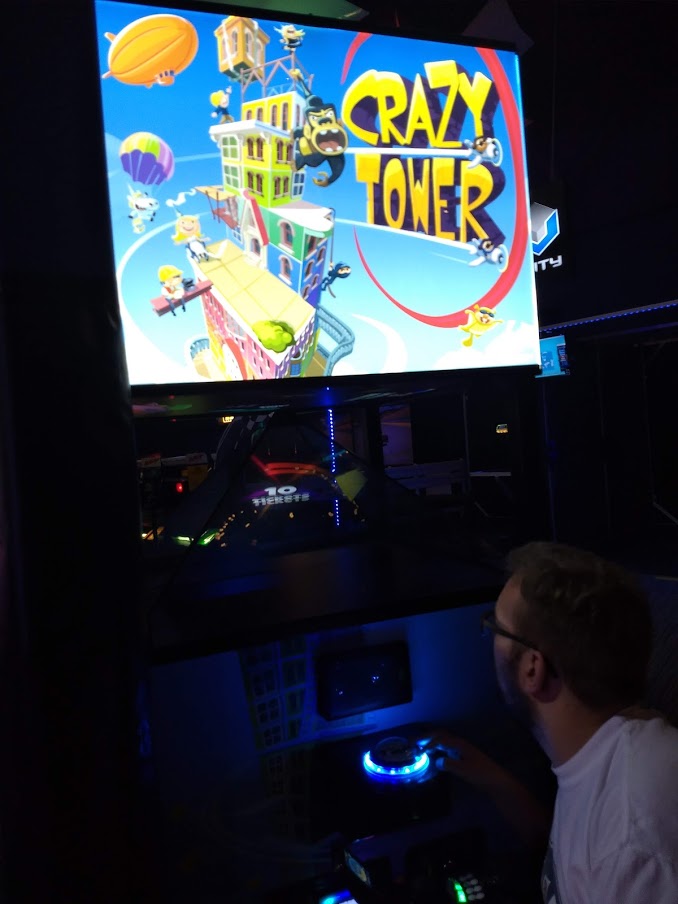 The first game I played was crazy tower, the game was pretty fun. Crazy tower is basically a hand-eye coordination timing game, and it's also bullshit. In the game you are trying to build a fifty-floor tower, each floor flies across the screen and you have to hit the button to drop the current floor onto the previous floor before the current floor flies past the floor under it. Overshooting the previous floor is alright, but it sheers off any part of the floor not supported by anything under it, so if you're not careful each floor can quickly get smaller and smaller making the game harder and harder.
Crazy tower was actually a really fun and addicting game, my only complaint comes from the prize structure. The game would award you one thousand tickets if you managed to build a fifty-floor tower, however, anything under fifty, even into the forties, would award you like ten tickets.
After I pulled myself away from crazy tower I went and spent my remaining credit playing flappy bird, which I should have down from the start. I suck at the flappy bird (I know it's just flappy bird but I'm using Grammarly and it told me I needed an article there, and I'm really digging calling it the flappy bird.), but it would give you like thirty tickets for just making it through two pipes!
Long story short I spent twenty-five dollars and wasted about two hours earning myself a bag of jelly beans from the ticket exchange store. Hashtag worth it!

The next morning saw us traveling to the Mississauga Chinese Centre. The Centre covers over 100,000 Sq Feet and is home to a variety of specialty stores, restaurants, and a supermarket.

One of the first things you notice as you enter the centre is the nine dragon wall.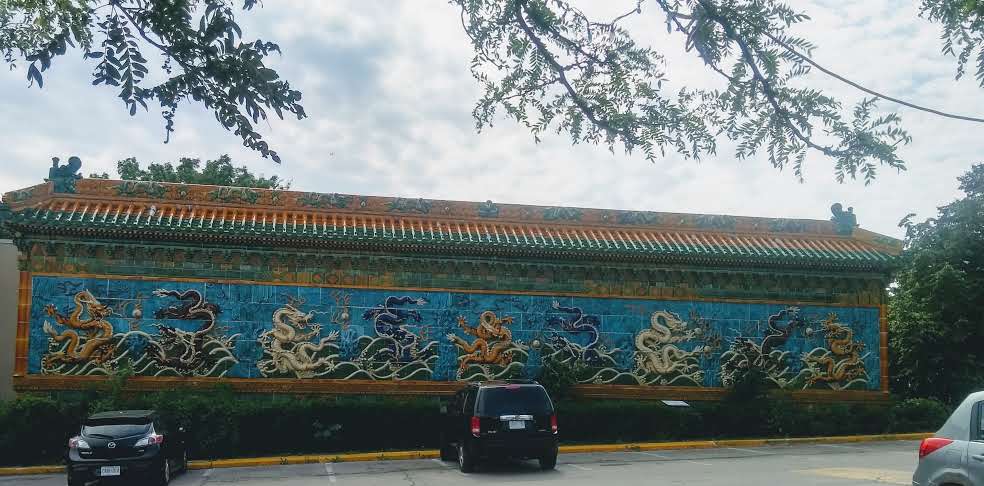 The first shop I wandered into was a brilliant fish and aquarium supply store, there was a staggering variety of fish.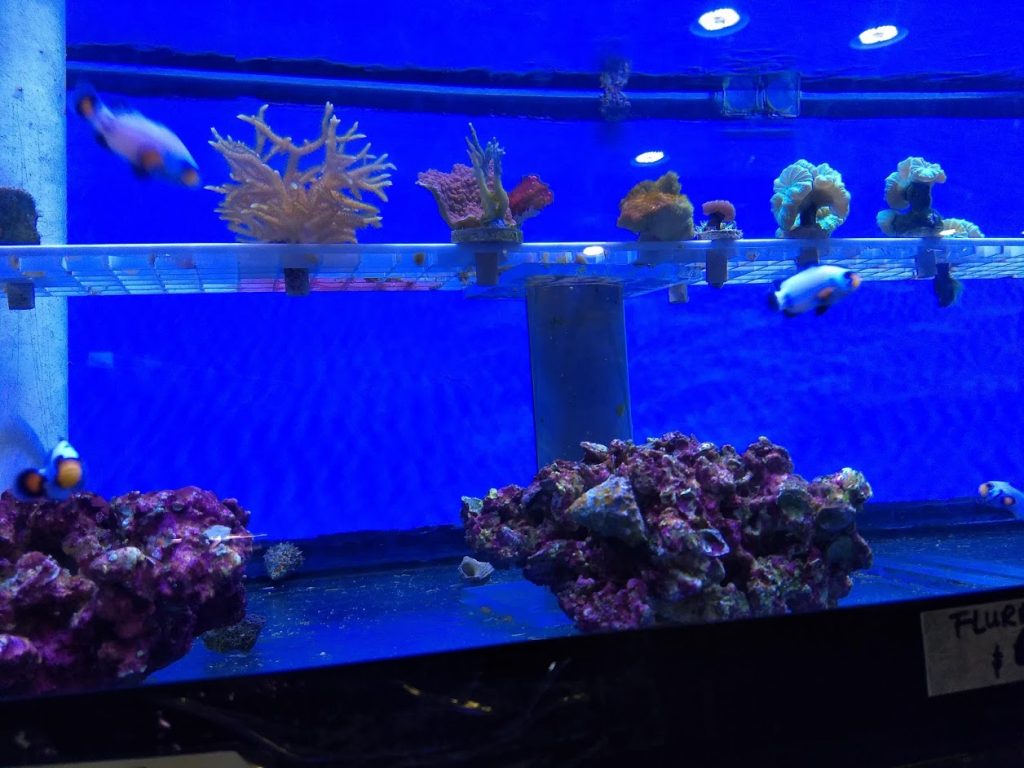 The aquarium supply store was pretty much the only store I had gone into before grabbing lunch. However, I did manage to get a photo in front of the Pavillion of Friendship.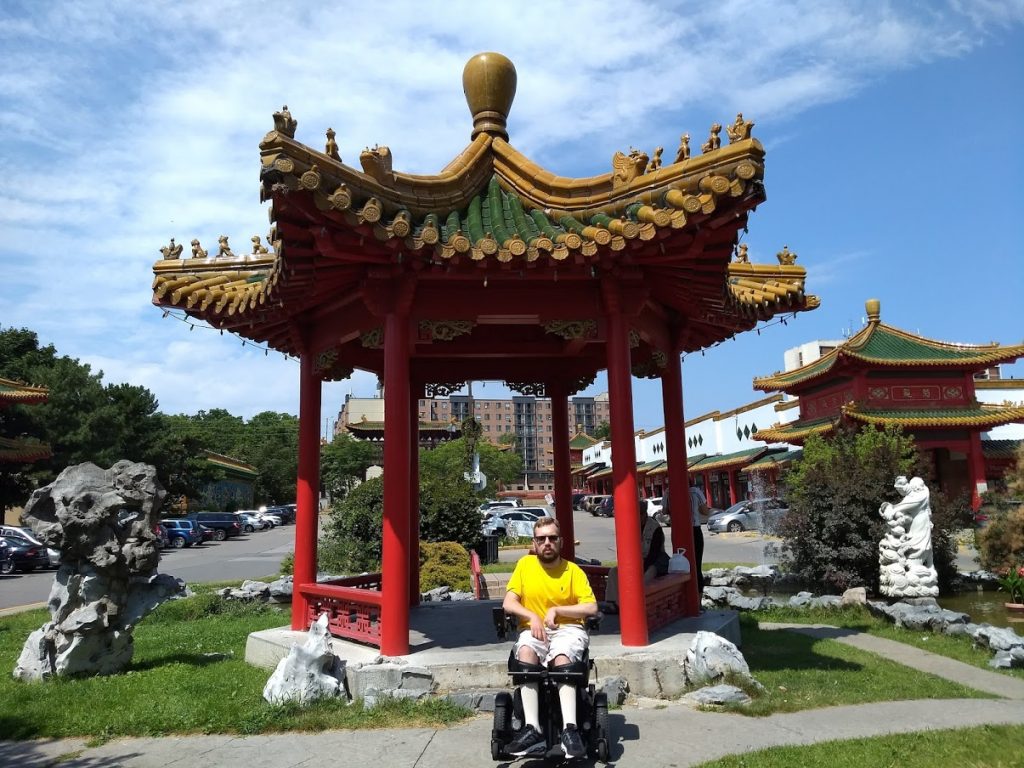 As far a lunch, I spotted a restaurant called "Blue Lagoon Seafood Master." I just knew I had to eat there with an awesome name like that!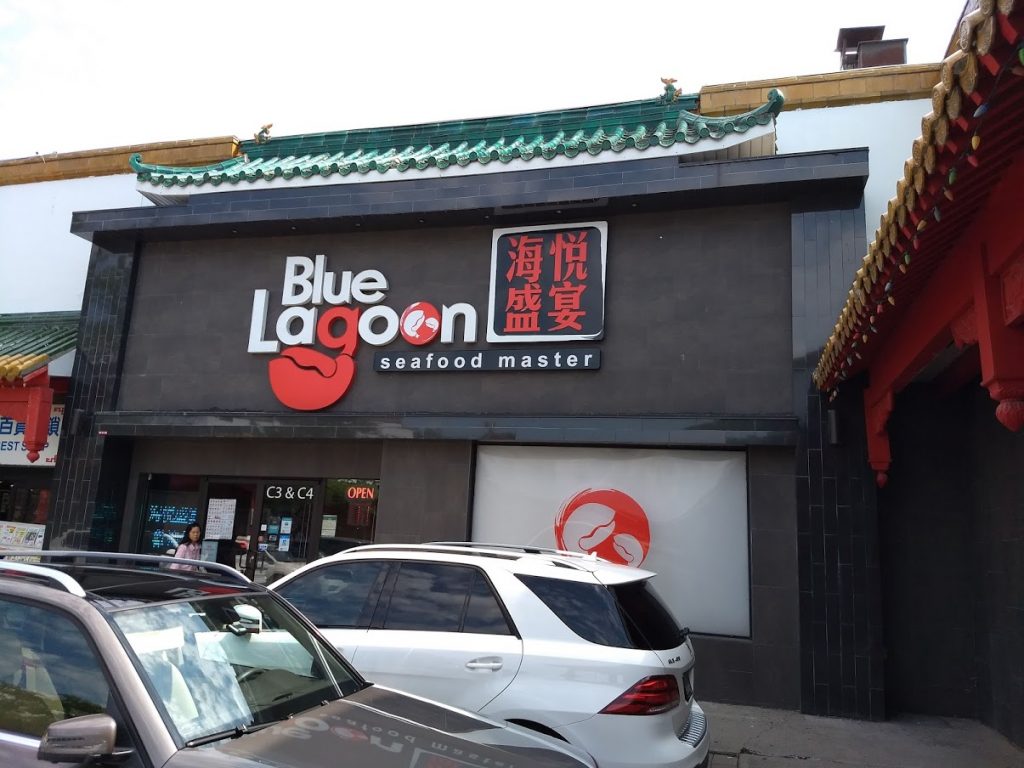 Walking through the doors of Blue Lagoon Seafood Master immediately places you into a really cool area where you wait to be seated.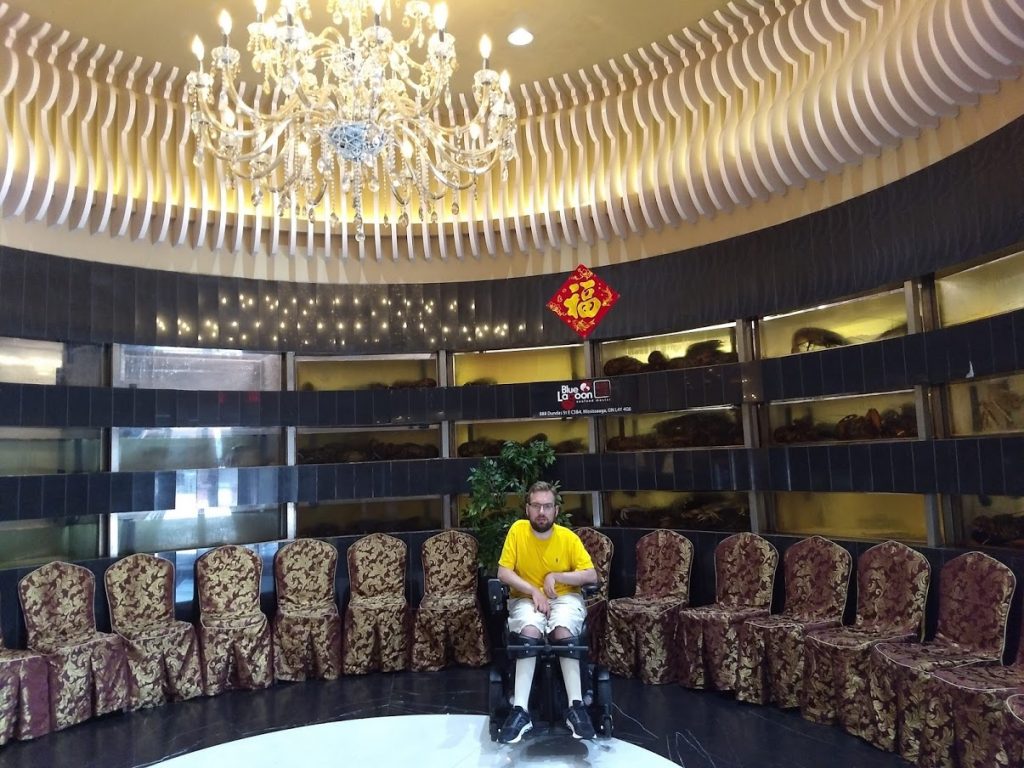 The coolest thing about the waiting area was all of the live seafood in tanks behind the seats!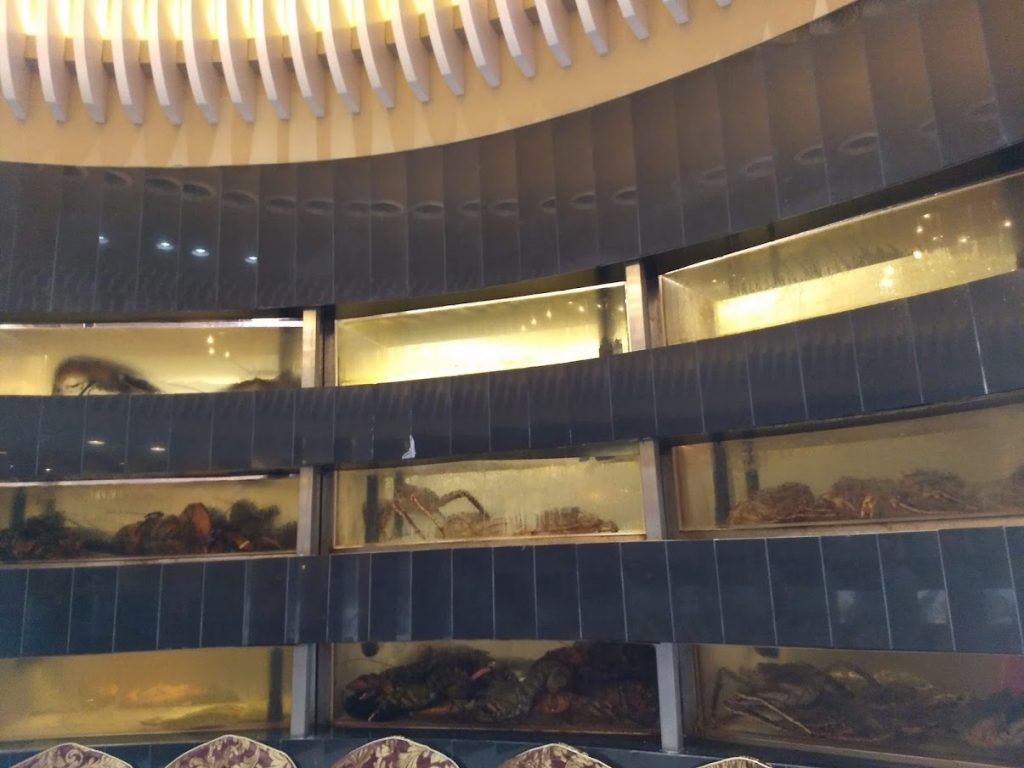 I wasn't able to get a picture of the main dining area, but it too was really neat. With a wide-open area and a vast number of large round tables the dining area really reminded me of a banquet hall. Something I found really nice was that they had a projector in the dining room showing Chinese language programming. Overall the whole place had a social hall feel, which I found very unique and inviting. The food was excellent too.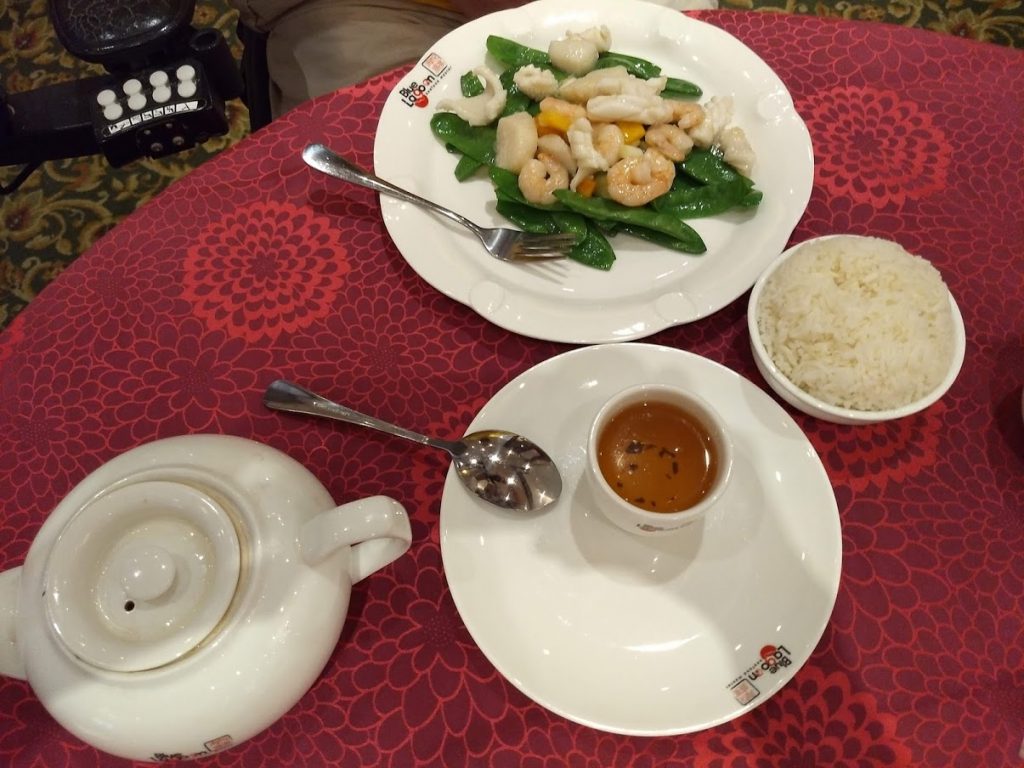 I got the squid, shrimp, scallops stir fry at Blue Lagoon Seafood Master. I can't say enough about how good everything was, I mean except for the squid. Fun fact, I learned I do not really like squid. But seriously, the pea pods were fresh, the shrimp was good, and the scallops were cooked absolutely perfectly. Probably the best scallops I've ever had.

After lunch, we went to the sino mall grocery store.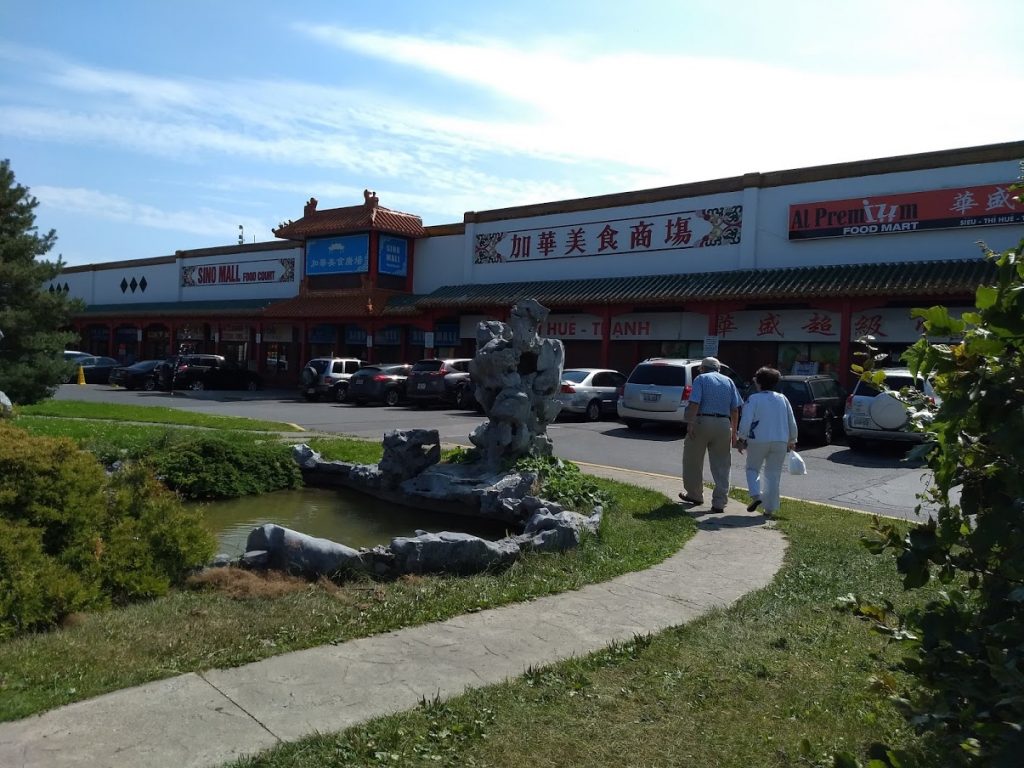 Sino mall grocery store had so much cool stuff. Sadly I do not have any pictures of the "weird" food because I was too intimidated to stand around taking pictures of stuff and expose myself as the uncultured swine that I am. I did buy myself a snack though, and I took a picture of it later when I was safely in my hotel room.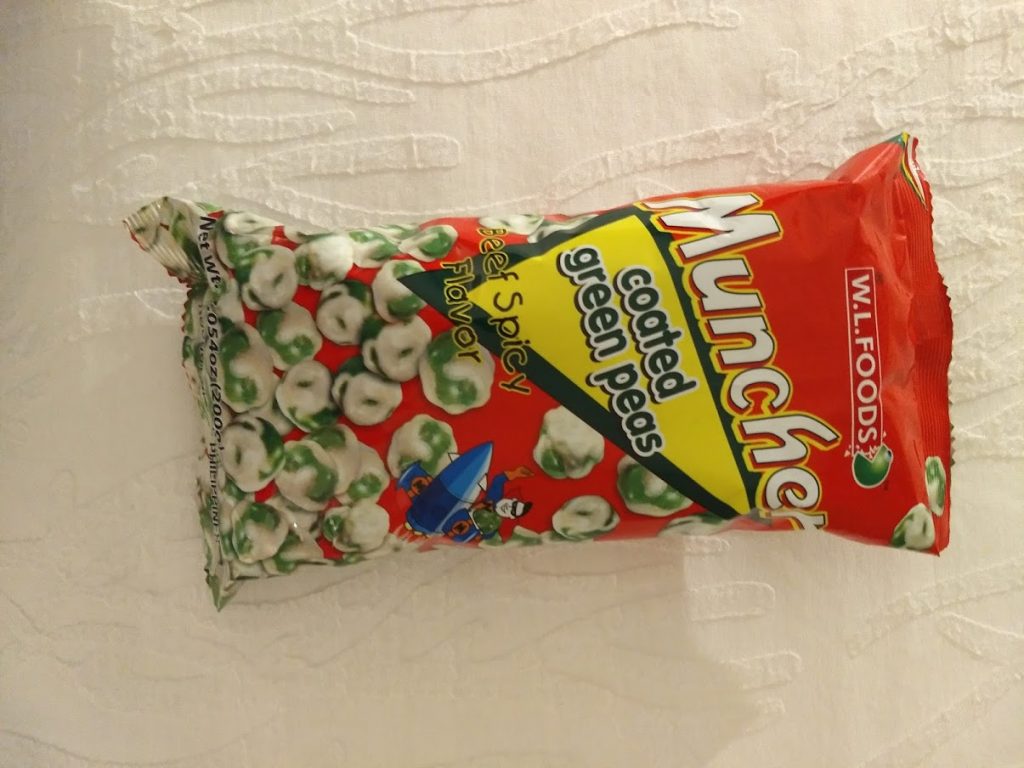 The next stop after the Mississauga Chinese Centre was the Square One Shopping Centre, which is actually the largest mall in eastern Canada. When we arrived we saw that on the grounds directly next to the mall they were setting up for an Italian heritage festival taking place later that night.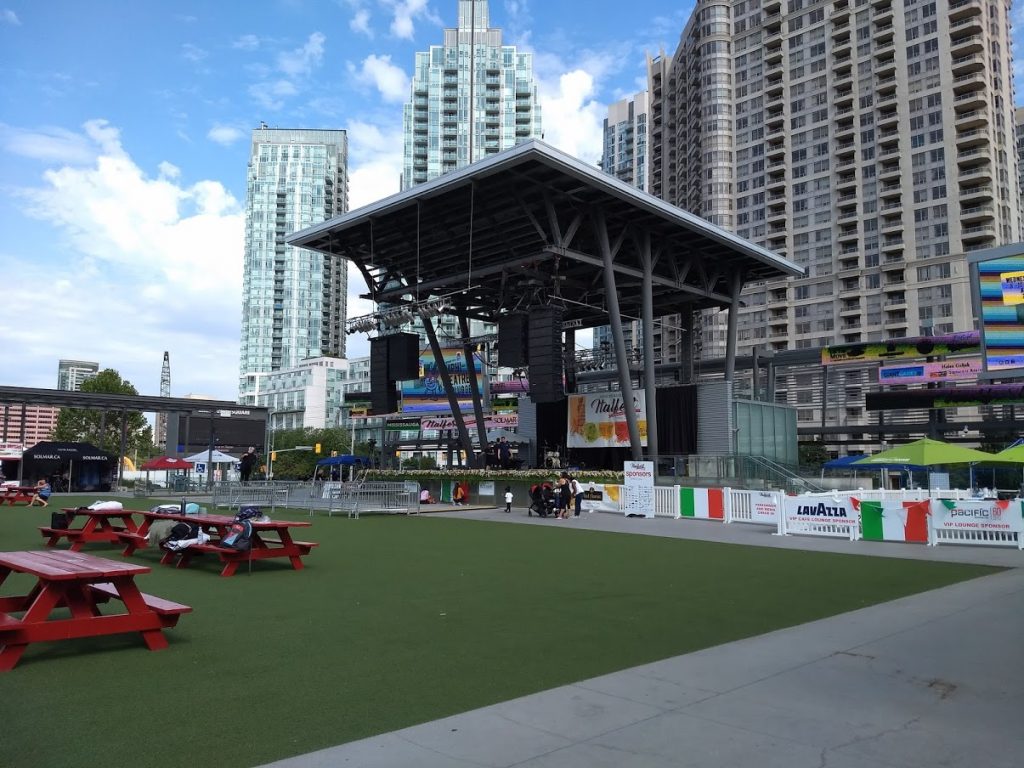 The Italian festival even had a bocce ball court and tournament!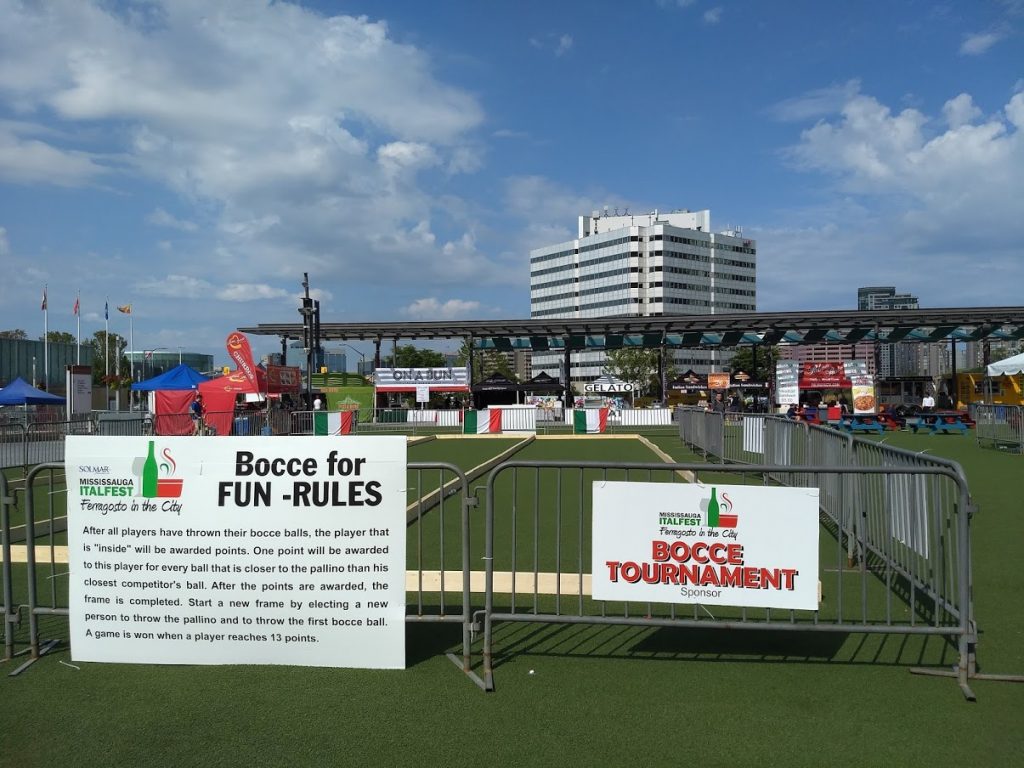 Sadly we were unable to attend the festival later that night.
I only took a couple of pictures inside the centre because I was too busy soaking up all of that good old mall atmosphere. One thing I was sure to take a picture of however was the Walmart in the mall, and the McDonalds in the Walmart in the mall. I was just so amused by the whole store within a store within a store thing. I guess just like ogres, malls have layers.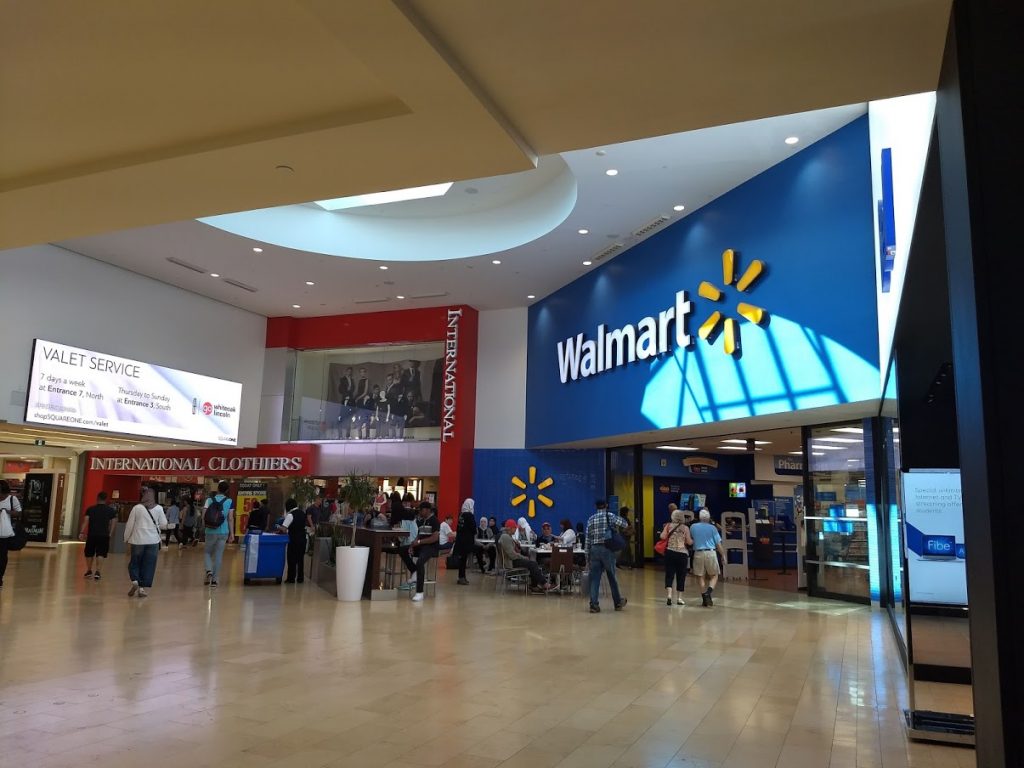 Another thing that struck me as hilarious about this is how McDonald's is too low class for an actual spot in the mall, it was relegated to Walmart.
Like I said above, I didn't get a chance to take too many pictures in the mall but I did manage to get one of The Rec Room.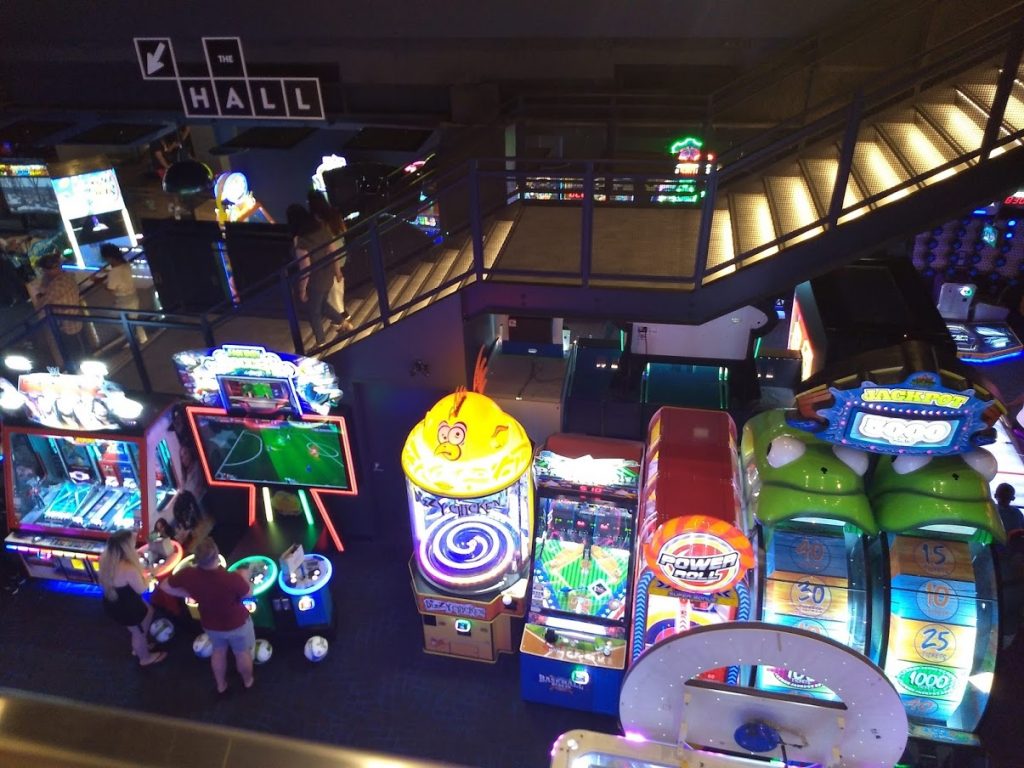 First with Playdium and now with The Rec Room, all I can say is Mississaugans must really love their games.
On the way back to the hotel we felt the need to make our trip extra Canadian and stop at Tim Hortons.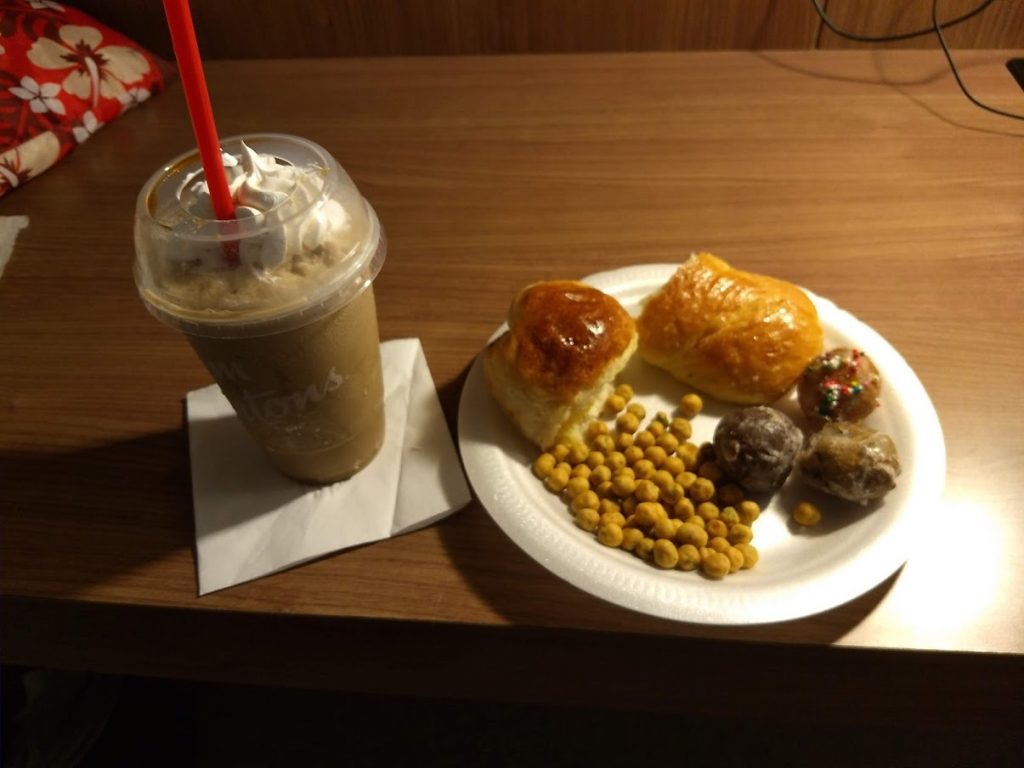 Before the journey back home we decided to stop at Fo Guang Shan Temple of Toronto. Due to it being a day of triple prayer there was, unfortunately, no tour on the day of our visits. However, the Buddhists being the exceptionally nice people that they are, were just like "Yeah, the tea room is closed but you can go ahead upstairs and check out our mini-museum." The temple was fantastic and I took way too many pictures to post all of them here individually so I'll leave a slideshow gallery below.
Speaking of Buddhists being exceptionally nice, as we were leaving a temple staff member invited us to a luncheon in the basement that started in a half an hour. Wanting to get going on our long drive we politely declined the offer, looking back at it that is my one regret from the whole trip.
In the car I started searching for cool stuff to do on the way home, and it was quite serendipitous that that Saturday was International Homeless Animals' Day and as such Pawlooza was happening in London.
For those of you who don't know what Pawlooza is, allow me to provide a quote below.
What is Pawlooza?


Pawlooza is the ultimate dog party! It's a festival for dogs and animal lovers! Join an estimated 25,000 people and 6,000 dogs for Canada's most unique and dog-friendly festival experience.

Pawlooza was a really fun time, there were tents all around, an inflatable dog-shaped balloon, and even dock diving!
After Pawlooza we were finally on our way home for real this time, maybe. Instead of taking our usual way back to the states we decided to cross at the Blue Water Bridge and drive through Port Huron. By the time we reached Sarnia, where the bridge connects, everyone was pretty hungry. We decided to conclude our trip with an early dinner in Sarnia.
Originally we were going to eat at Sideways, mainly because they had the great sign pictured below out front.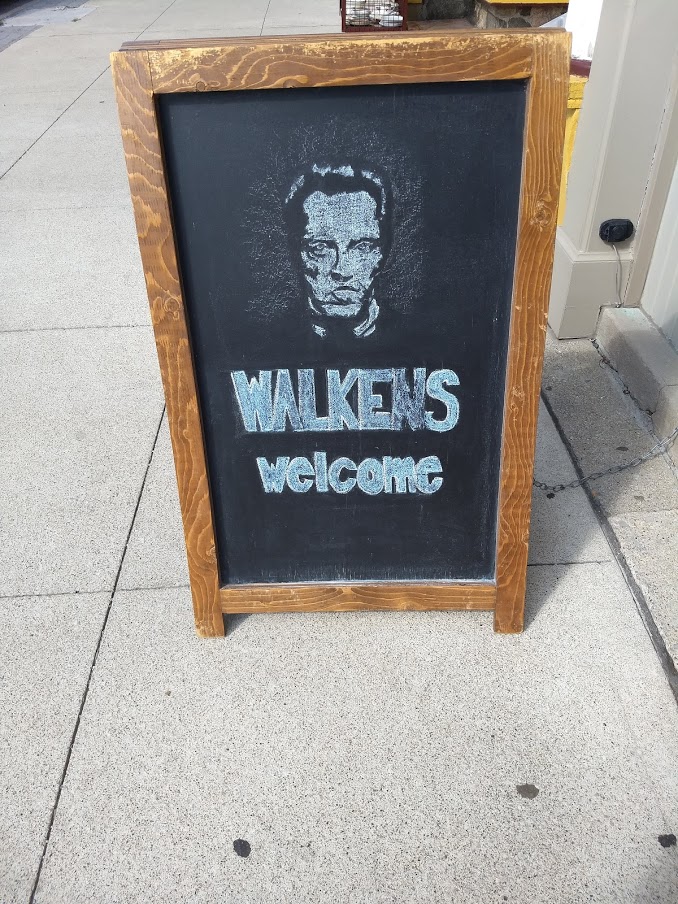 However, Sideways turned out to not be handicap accessible, which is kind of shitty especially in this day and age, but it's ok because sometimes when life gives you lemons you stumble upon lemonade.
As we rounded the corner to look for somewhere else to eat, we again quite serendipitously stumbled upon an outdoor craft market.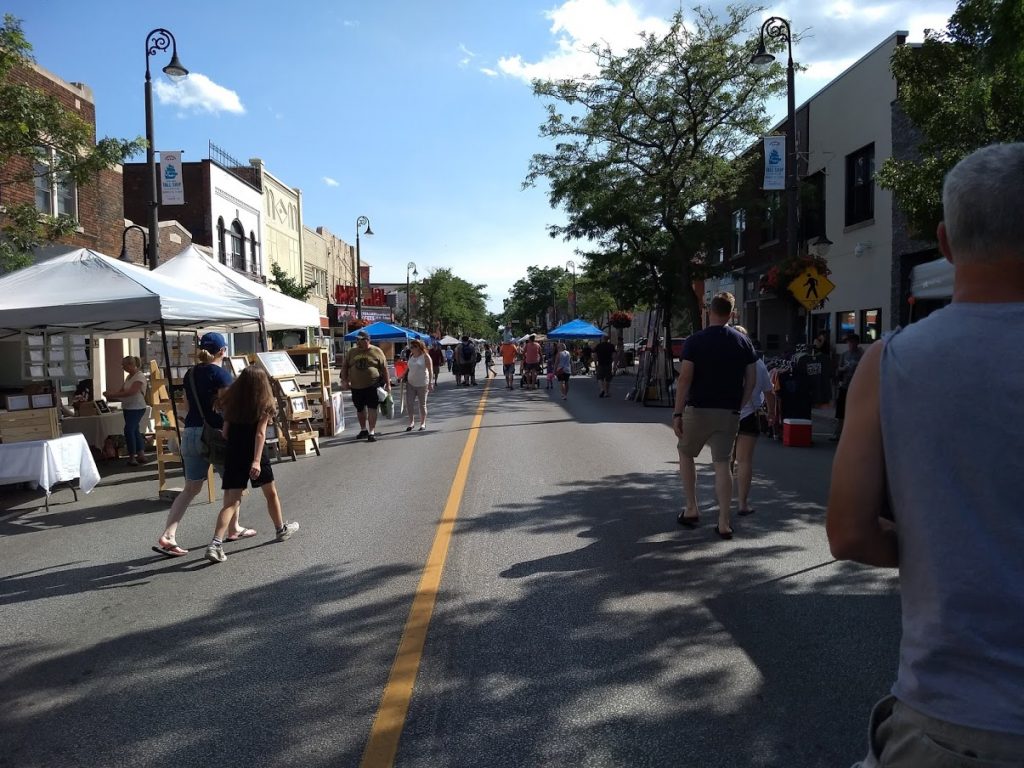 To be honest the craft market was pretty lame, it was only half a street long and didn't really have crafts, it only had a few little knick-knacks. Still, it was a cool little thing that we'd have never found if we had eaten at Sideways.
Eventually settling on a brewpub called The Tin Fiddler we went to eat the last meal of the trip.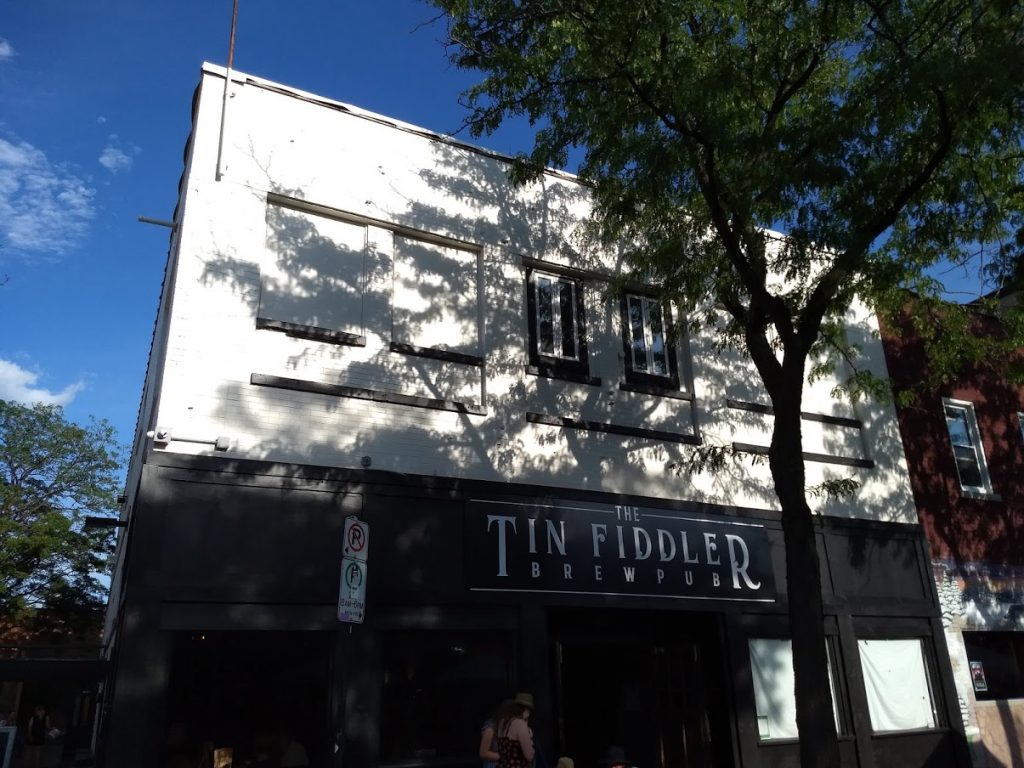 The inside of the restaurant was pretty small but it didn't feel overly tight.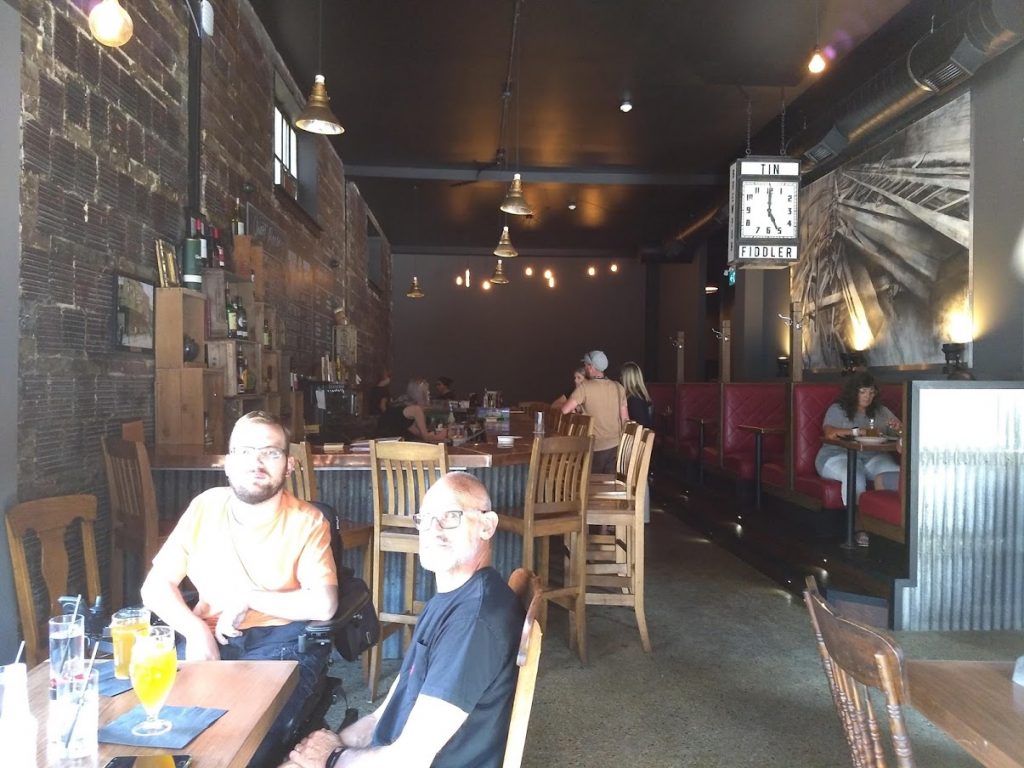 One thing I have to say is the drink selection at this brewpub was very very strange.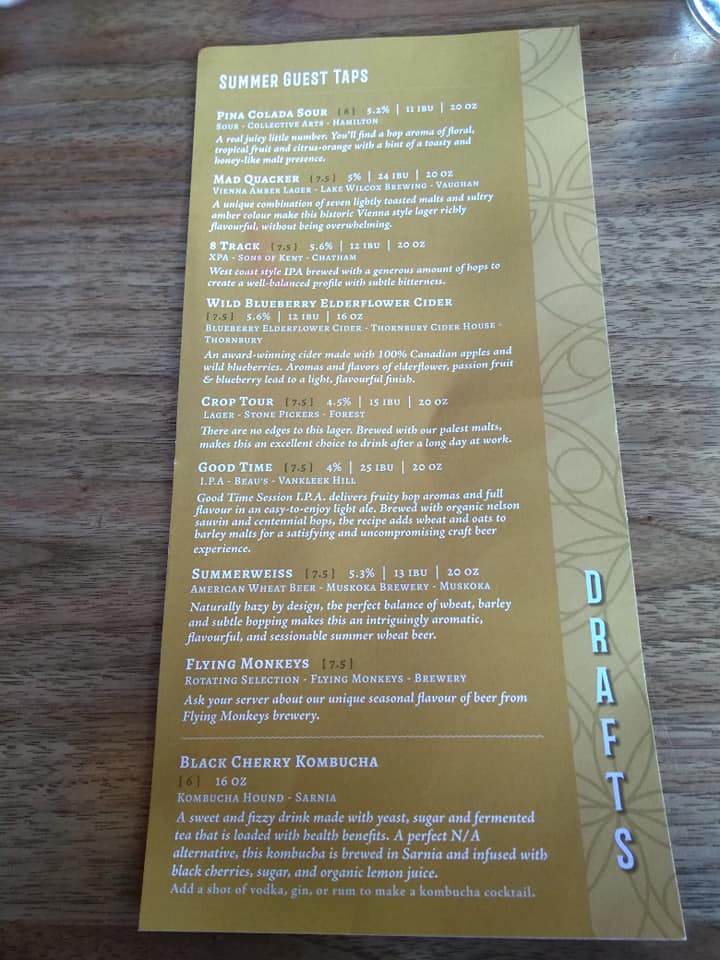 I don't usually drink but I had to try one of these weird flavors. I had the Pina Colada Sour, it was decent. Below you can see me giving it a big old thumbs up!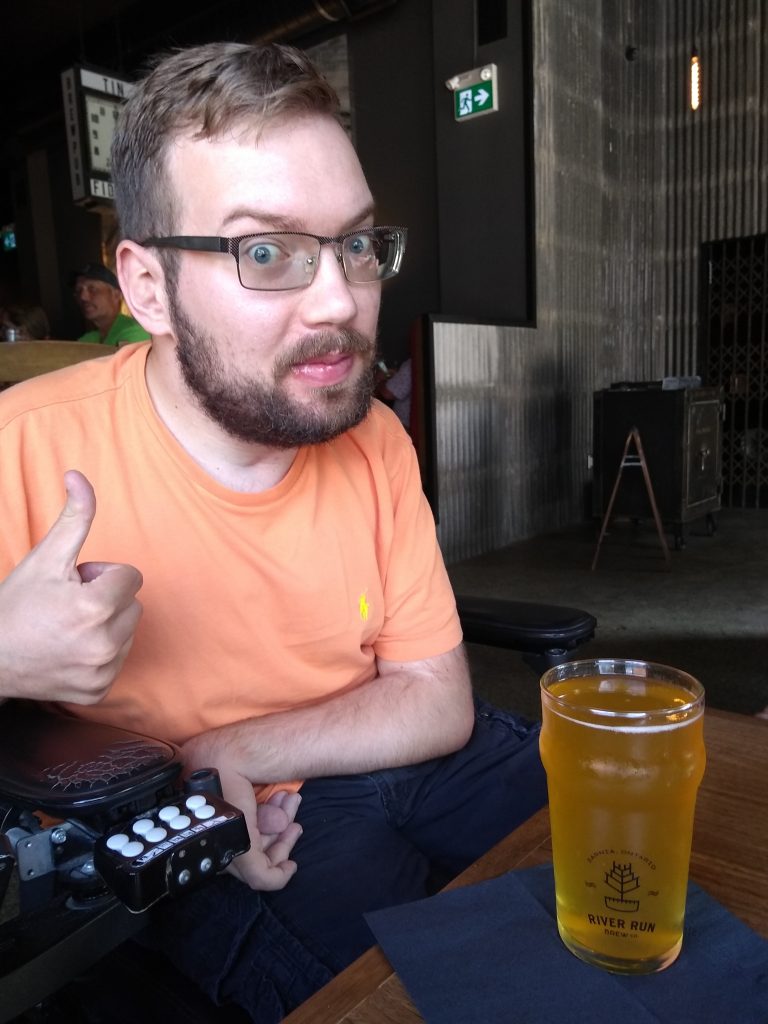 The food was good but didn't really wow me. I think with that thick-cut bacon the burger, pictured below, looked a lot better than it was. The fries were very plain, and while that might seem like a complaint it very much isn't. It was quite refreshing to have fries that didn't rely on gimmicks, they had no seasoning other than a tiny bit of salt. The fries had a real potato flavor and tasted nearly identical to homemade steak fries.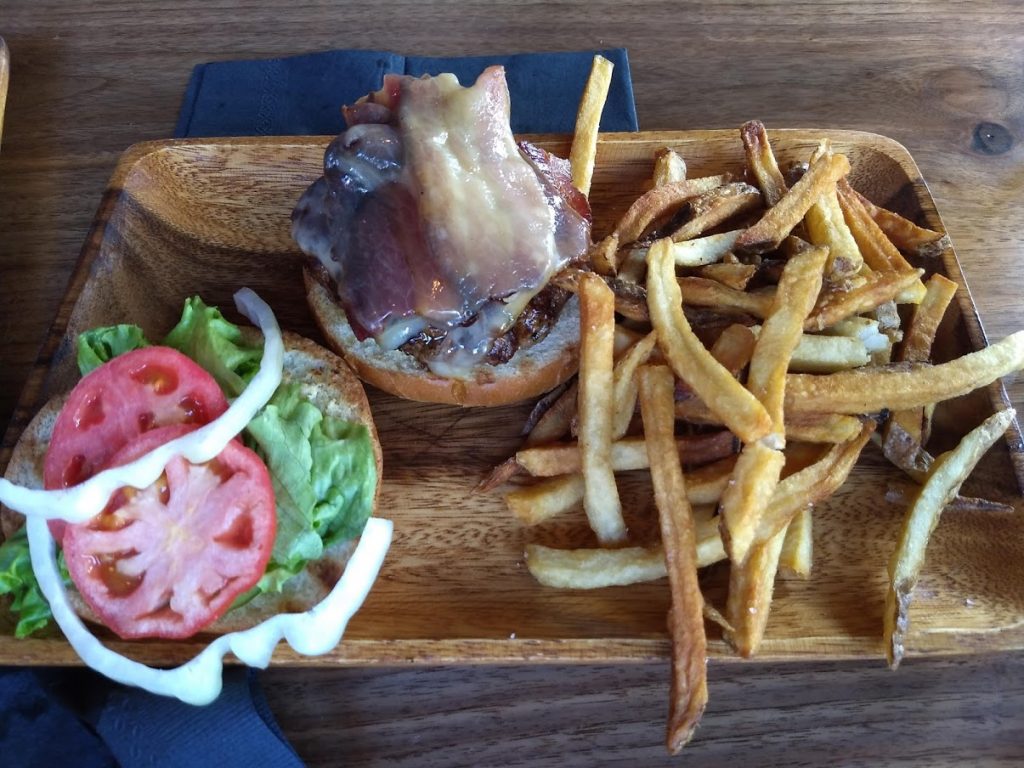 Finishing that meal all but marked the end of our, hastily thrown together trip. I have to say that despite not planning this trip until a few days before this was easily one of my favorite trips.